The museum of the Parish Church
The small Sacred Art Museum of the Parish Church of San Giovanni Battista in Cavriglia is housed inside what was once the chapel of the company dedicated to the Name of Jesus The chapel is located up against the left aisle of the Parish and one enters from the original open input on the front and from the aisle of the church.
The oratory has taken the current appearance in the late eighteenth century when, probably at the same time with the parish, was placed on a work of restoration. On the back wall of the building, that has a tree of rectangular shape, there is a painting of the Circumcision of Christ,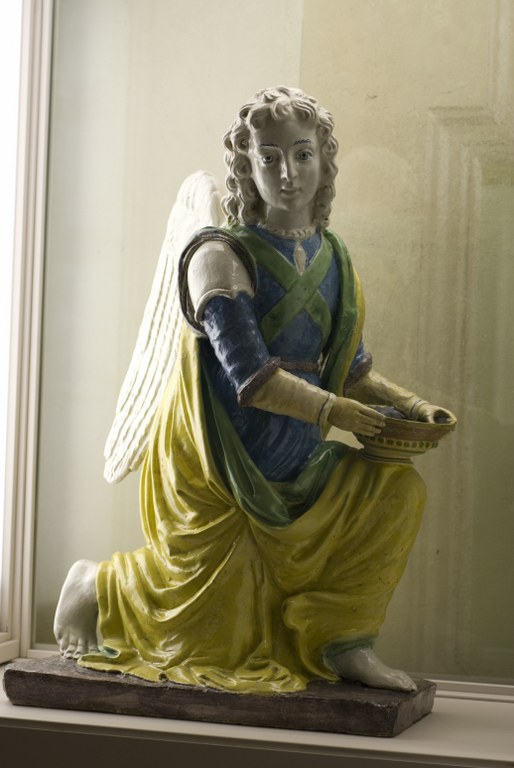 attributed to Benedetto Veli (Florence 1564-1639).
In the center, under the painting, there is an eighteenth-century statue of the Madonna del Carmine, flanked by two oval where are represented St. Anthony Abbot and Saint Mary Magdalene de 'Pazzi, both coming from the nearby parish church. The whole is placed inside a rectangular stucco shows culminating in a pediment. On the right wall a painting attributed to a modest artist of the first half of 1600 portrays Matthew the Evangelist and St. Anthony of Padua, creating a very unusual combination.
Hailing from the altar dedicated to the Visitation in the left aisle of the local parish church, there are here exhibited a meeting of the Virgin and St. Elizabeth; the painting can be dated by the seventeenth century, while we only know the author's initials, "MG" read back after the recent restoration. Interesting is the collection of busts, in glazed terracotta, in mostly white color with the exception of a few special color signs such as cobalt blue eyes and eyebrows.
The busts are all related to the production of Benedict Buglioli and depict St. John the Baptist, St. Stephen Bishop and probably San Romolo. Of note is an polychrome angel, always by Buglioli, submitted to the rebuilding of the upper limbs in the thirties of the twentieth century. Its presence in the Parish Church of San Giovanni Battista is documented only from the first half of 1800. Many are the vestments on display in the showcases of the museum. Of particular interest is a processional cross of the thirteenth century, chased and gilded copper, on which stands a Christ in gilded bronze of the previous century.
The uniqueness of this statue is to represent the meeting point between the iconography of the Christus Triumphans and the latest Christus Patiens. From 100 are the two angels and the great lectern, made of carved and gilded wood. Also in the eighteenth century, we can place the production of interesting statues from manger of probable Neapolitan craftsmanship, hosted in last showcase of the right wall.